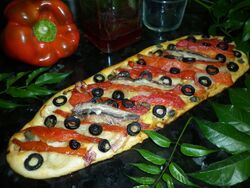 The coca is a Spanish dish which consists in a flat bread topped with traditional Spanish ingredients, toppings can vary depending on the region the dish is made. Typically, coca contains no tomato sauce or cheese. The shape of the crust is normally rectangular or oval-shaped.
Coca Catalana: Topped with roasted peppers, onions and sardines.
Coca desnuda: Just the sole crust, no topping.
Coca de reyes: Topped with candied fruit and sugar.
Coca borracha
Coca boba