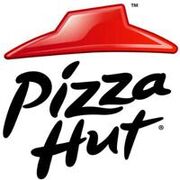 Pizza Hut is a restaurant from Yum! Brands that serves pizza, it is currently based in Addison Texas. It is home to Pizza Hut's Hand Tossed Pizza and Pan Pizza. There are 34,000 Pizza Hut outlets worldwide.
Pizza Hut was founded in Wichita, Kansas in 1958 by brothers Dan and Frank Carney, who opened a restaurant with seats for twenty-five people. They chose the name "Pizza Hut" because the sign which they purchased for their restaurant only had room for nine characters with spaces.
The building which housed the original Pizza Hut restaurant was later moved to the campus of Wichita State University.
The first franchise was opened in Topeka, Kansas in 1959. By 1964 a standardized appearance and lay-out had been created for all company owned and franchised Pizza Hut stores.
Pizza Hut was acquired by PepsiCo in 1978. Pepsico later bought KFC and Taco Bell too. Those three restaurants were spun-off by Pepsico to form a new company, Tricon, in 1997. Tricon went on to acquire other fast-food restaurants and is now known as Yum! Brands.
International Expansion
Edit
In 1973 Pizza Hut opened its first branches outside of the United States, in Canada, Japan and the United Kingdom.
Pizza Hut currently operate in one hundred countries, in North and South America, Europe, Africa, Asia and Australasia.
Unlike Domino's Pizza, Pizza Hut outlets in Israel are kosher, consequently all toppings are vegetarian, since Jewish dietary law prohibits mixing meat with dairy products, such as cheese.
Varieties of Pizza Hut Establishment
Edit
There are several different types of Pizza Hut outlet. There are "Red Roofs", traditional family restaurants, many of which have "all you can eat" buffets, featuring breadsticks, salad and pasta. There are Pizza Hut "Bistro" restaurants, which have an expanded menu and some slightly more upscale options. There are "Delcos", store front delivery and carry-out places with no room for diners inside. There are also outlets that offer eating in, delivery and take out, called "RBDs" (Restaurant Based Delivery units). There are also stores known as "Pizza Hut Express" or "The Hut", fast-food restaurants which have a limited menu but offer some products not found at other Pizza Hut locations. They can be found at shopping malls, department stores, theme parks and on university campuses. They often share a location with another fast-food restaurant owned by Yum!Brands.
In the UK, "Pizza Hut Delivery" franchises offer a delivery- or collection-only service - there is no seating available, so orders must be placed online, over the counter or by telephone and then consumed off the premises. The menu in such delivery stores is usually a truncated form of the menu available in Pizza Hut restaurants.
Logo history
Edit